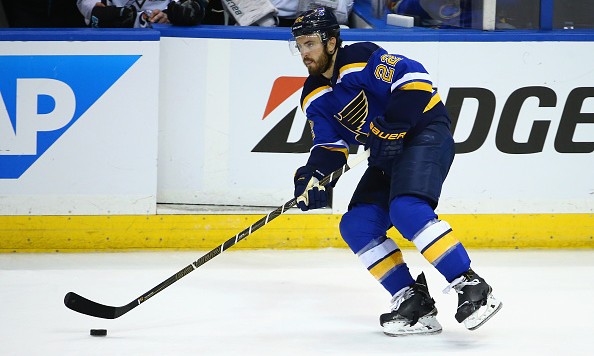 A Trade For Shattenkirk Might Be More Than It's Worth For The Bruins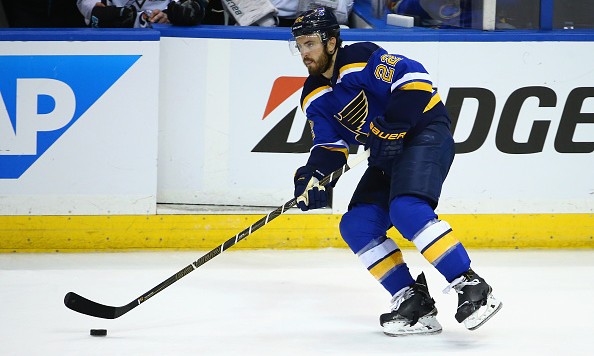 The NHL's trade deadline is just under a month away, and Kevin Shattenkirk remains one of the biggest names out there in trade rumors. It's all but guaranteed Shattenkirk won't be returning to the St. Louis Blues in the 2017-2018 season, but that he remains with the club so far into the season suggests Blues general manager Doug Armstrong has not been able to find a viable trade for the defenseman.
Naturally, the Bruins are often named as a possible destination for Shattenkirk. They very obviously still need a right handed defenseman that can effectively eat minutes on the first pairing. As admirable as Brandon Carlo's rookie season has been, he would be better served with more sheltered ice time. Shattenkirk would be a great addition to Boston's defense; he's one of the league's premier offensive defensemen and would (hopefully) jumpstart Boston's offensive capabilities as a complement to Torey Krug, the team's (current) best offensive defenseman.
Unfortunately, trading for Shattenkirk might prove more difficult for the Bruins than it's worth. Any trade would likely involve Shattenkirk immediately signing a contract extension with his new team, which makes the deal much more valuable for St. Louis. In this case, the Bruins would likely have to give up a top prospect- Brandon Carlo and Boston University star Charlie McAvoy the most commonly brought up in trade rumors. That alone is enough to make Bruins fans re-consider wanting Shattenkirk. Carlo is already contributing in the NHL this year and it's likely McAvoy signs with the Bruins after his collegiate season is over. McAvoy himself is comparable to Shattenkirk- both are right handed offensive defenseman from BU drafted 14th overall in their draft years. McAvoy has been labeled as a future number one defenseman, while Shattenkirk already would be one on many NHL teams. If McAvoy projects to become a similar (or even better) player than Shattenkirk is now then he should be damn near untouchable by the Bruins. Carlo should be close to untouchable, too- but if it has to happen, trading McAvoy shouldn't be justifiable.
So let's assume Brandon Carlo is the top prospect involved in a Kevin Shattenkirk trade. Shattenkirk's cap hit for this season is $4.25 million. According to Capfriendly, the Bruins have $4.172 million in cap space. Boston would have to send an additional contract back to the Blues to stay comfortably under the salary cap. This is where it gets tricky- the Bruins don't really have a lot of great candidates for that. The Blues do also covet a top six center, so David Krejci theoretically fits the bill for them, but his contract doesn't. Shattenkirk will leave St. Louis because they can't afford to pay him $7 million or so on his next contract. Krejci makes $7.25 million per year through the 2020-2021 season. If St. Louis drops Shattenkirk, they would have about $5.5 million available in cap space. Still not enough to squeeze this trade in without the Blues dumping a contract on the Bruins.
If the Blues are receiving Krejci in this deal, it's likely they'd want to send a center back the other way to avoid a logjam at that position. Patrik Berglund and Jori Lehtera are two likely options here, but neither are enticing for the Bruins. Berglund's $3.7 million cap hit expires after this season, and though his stats aren't great, he could be a serviceable rental for the Bruins. Lehtera carries a $4.7 million burden for two more seasons. Berglund is the only one of the two players who has scored 50+ points in a season, and that was 52 in 2010-2011.
So far in this theoretical trade we have:
BOS to STL: Brandon Carlo, David Krejci
STL to BOS: Kevin Shattenkirk, Jori Lehtera/Patrik Berglund
As coveted as Shattenkirk is, there may not be enough value on St. Louis' end here to make this trade worth it for Bruins general manager Don Sweeney. Maybe if St. Louis added a first round pick this trade looks nicer for the Bruins, but even then, Jori Lehtera's contract is not a good look.
Of course, there's other ways Doug Armstrong and Don Sweeney could approach this trade. After two years of restocking his prospect pool, Sweeney should feel more open to trading his first round pick this year, especially if St. Louis would take it in lieu of Carlo/McAvoy. Boston has other prospects they'd consider trading; Jakub Zboril and Jeremy Lauzon are two solid left shot defensemen, but neither are as proven as Carlo or as highly valued as McAvoy.
Unfortunately, with the names that are most often floated around with this deal- Krejci, Carlo, McAvoy- trading for Shattenkirk might involve giving up too much and accepting a poor contract for an underperforming center in return. Kevin Shattenkirk would help the Bruins remain contenders while they remain in retooling mode, but unless Sweeney makes one of his best trades as general manager yet, it's not worth it.
Follow Tommy McArdle on Twitter @tmcardle27
Photo Credit: Dilip Vishwanat/Getty Images
About Author