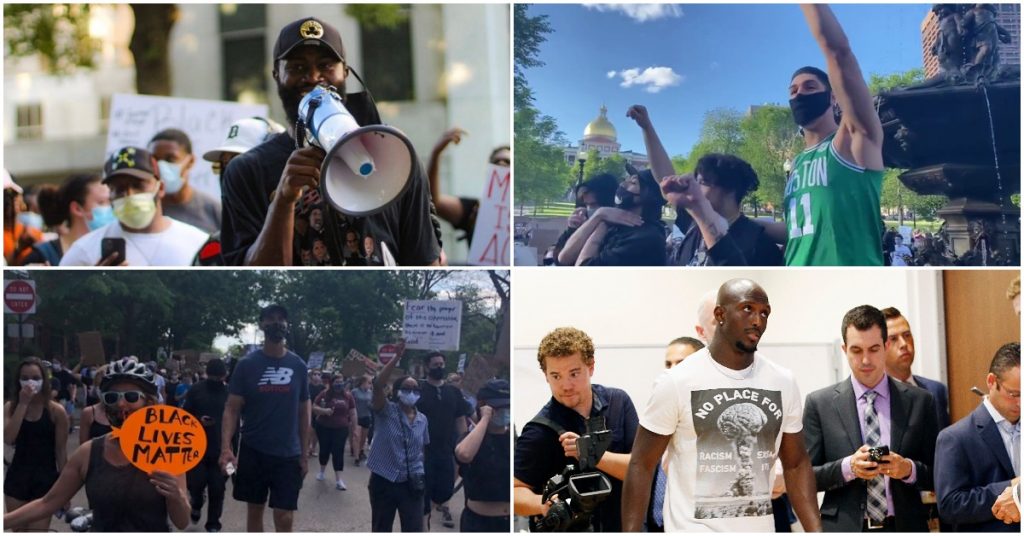 With protests taking place all over the world following the murder of George Floyd in Minneapolis, Boston athletes have taken advantage of their down-time by getting out and letting their voices be heard.
Jaylen Brown drove 15 hours from Boston to his hometown of Atlanta to lead a peaceful protest:
https://www.instagram.com/p/CA3USKGFrya/?utm_source=ig_web_copy_link
Enes Kanter was heavily involved in some of the Boston protests:
Change cannot wait.

(via @wcvb) pic.twitter.com/PUx2NK1v1n

— Boston Celtics (@celtics) June 6, 2020
Patrice Bergeron made an incredibly impactful statement on the Bruins' social media pages.  This is especially important coming from a guy who plays in a sport that's 97% white:
A statement from Patrice Bergeron.

To those who wish to support:

NAACP Boston: https://t.co/uXXPUDXivO

Centre Multiethnique de Quebec: https://t.co/aS9a57RWOi pic.twitter.com/IVKU1hMNd6

— Boston Bruins (@NHLBruins) June 3, 2020
Former Red Sox star Mookie Betts demands action in a heartfelt Instagram post:
Brad Stevens delivered a stern message on the Celtics social media pages:
Listen, learn, engage, participate and act.

We're all in this together #BlackLivesMatter pic.twitter.com/hGNBiyL2Fr

— Boston Celtics (@celtics) June 5, 2020
Devin and Jason McCourty condemned Drew Brees' kneeling comments:
This is a disgrace! To speak about your grandfathers as if there weren't black men fighting next to them.Those men later returned to a country that hated them. Don't avoid the issue and try to make it about a flag or the military. Fight like your grandfathers for whats right! https://t.co/qag3Igic3V

— Devin&Jason McCourty (@McCourtyTwins) June 3, 2020
They've also been vocal on their podcast "Double Coverage", which is available on all platforms.
Zdeno Chara took part in Boston protests and shared a thoughtful sentiment on Instagram:
Former Celtic Aron Baynes gave a humble and honest depiction of his outside view on racism as a white man with privilege:
Plenty of athletes also took part in #BlackOutTuesday on social media, including Tom Brady, David Ortiz, Rob Gronkowski, Brad Marchand, and more. 
The absence of professional sports has given these guys more time to take a stand and put their words into action, and many of them are making sure they don't miss that opportunity.