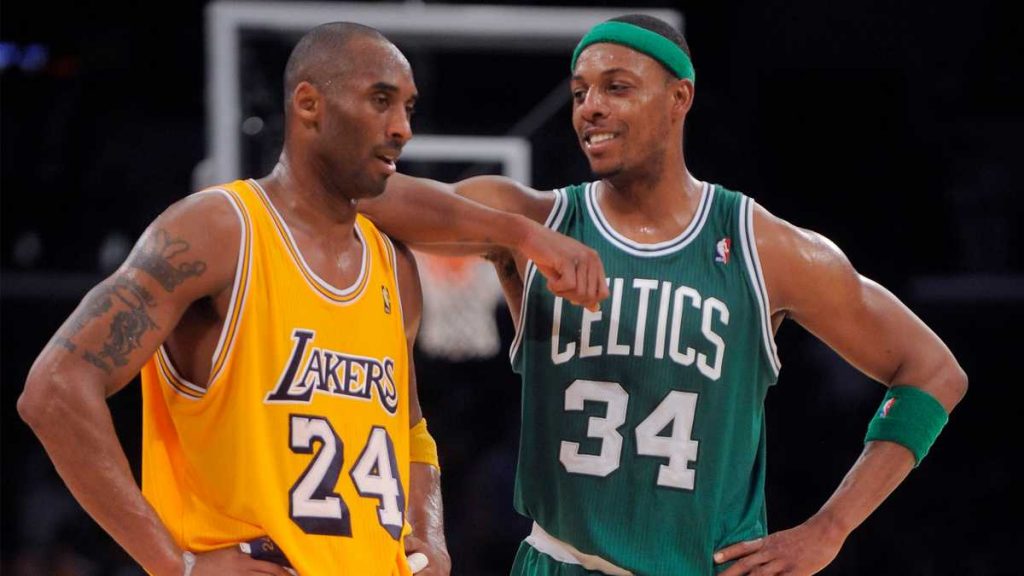 It's been a difficult few days dealing with the loss of one of the great sports icons of all-time, his daughter who was determined to follow in his footsteps, and seven of their friends.  Every athlete or fan of sports in general has in some way been impacted by Kobe Bryant over the past 25 years.  For people in Boston, he might have been the most well-respected villain we'll ever have the privilege of rooting against. 
As a young kid, I personally was a fan of Kobe in the early 2000's.  From 2008 to 2010, I loved to hate him for obvious reasons. He was the enemy.  But as that chapter of the storied rivalry came to a close and LeBron stepped in as our new biggest threat, I grew an immense appreciation for Kobe because I recognized that he was not only a part of a dying breed, he was the leader of that dying breed.  Pierce, Garnett, Shaq, Iverson, Duncan, Nowitzki, McGrady, Carter, Kidd, the '04 Pistons, the run that the Spurs had, the Celtics' Big Three run.  In one way or another, it was all influenced by Kobe.  He was the guy that you had to gun for if you wanted to be the best.  As Pierce said in a recent Instagram post, Kobe set the greatness bar for their generation. 
That legacy hasn't been lost on the younger generations either.  Jayson Tatum credits Kobe as the reason he started playing basketball.  His intensity, his work ethic, and the results they produced are still considered a gold standard throughout the league.
The outpouring of support since Sunday's tragic events has been both beautiful and heartbreaking.  The level of admiration that Boston fans and athletes have for Kobe has been on full display, and it's been a stark reminder that this is so much more than a sport.  All of a sudden, losing Game 7 of the 2010 Finals doesn't seem so bad.
Here's how Boston teams, athletes, and coaches have reacted to the news:
Celtics
Bill Belichick
Patriots head coach Bill Belichick shares some thoughts on Kobe Bryant, with whom he had developed a unique friendship and respect for. pic.twitter.com/dWuWfEdd09

— Field Yates (@FieldYates) January 28, 2020
Kevin Garnett
Bill Russell
Jeannine & I are absolutely shocked to hear of the loss of one of my favorite people & one of the best basketball minds in the history of the game! Our hearts & prayers to Vanessa & his girls. @kobebryant you were my biggest fan, but I was yours #RIPMAMBA @NBA @espn @SLAMonline pic.twitter.com/Ll0BD6VWgr

— TheBillRussell (@RealBillRussell) January 26, 2020
Paul Pierce
This is not real right now

— Paul Pierce (@paulpierce34) January 26, 2020
Marcus Smart
Please God no…

— marcus smart (@smart_MS3) January 26, 2020
Jayson Tatum, who Bryant has mentored for the past couple years
Nooooooo cmon someone say it ain't true… I'm sick to my stomach right now

— Jayson Tatum (@jaytatum0) January 26, 2020
Doc Rivers
Brian Scalabrine
Cedric Maxwell
I'm heart broken. Totally heart broken.

Everyone in #Boston is draped in purple & gold today for #Kobe.

Prayers To the Bryant family, the #Lakers family and the entire #NBA community.

God bless. #RIPMAMBA #RIPKobeBryant #RIPKobe pic.twitter.com/raC0UcuIu0

— Cedric Maxwell (@cedricmaxwell81) January 26, 2020
David Ortiz
David Ortiz with a simple tribute to Kobe Bryant ?? pic.twitter.com/wrNrurenks

— Lauren Campbell (@lalalalaurrrren) January 26, 2020
Bruins
We join the sports world in mourning the loss of Kobe Bryant, his daughter Gianna, and the other victims of today's terrible tragedy. https://t.co/vKTU5olHPW

— Boston Bruins (@NHLBruins) January 27, 2020
Nomar Garciaparra
I can't put into words as eloquently as others. But, shocked, stunned, hurting, and praying for his family like so many others. RIP Kobe.

— Nomar Garciaparra (@Nomar5) January 26, 2020
Rob Gronkowski
Tom Brady
Julian Edelman
RIP to the legend. Terrible terrible news. Thoughts are with the family. #MambaForever pic.twitter.com/dd1FMyKqQ7

— Julian Edelman (@Edelman11) January 26, 2020
Brad Stevens
Shaquille O'Neal.  Not necessarily a "Boston athlete" but he endeared himself to the city during his one-year stint.  Most known for his dominance with the Lakers alongside Kobe. This one really hurts.
Our thoughts are with all nine victims of the crash as well as their loved ones.  Rest In Peace.
All 9 victims of yesterday's tragic accident ? Prayers to the families ?? pic.twitter.com/BgLR5BJcC8

— ?????? ? (@iMjustQuincy) January 27, 2020