This year was a bit strange for Boston fans. This is normally the time of year that we break out the sweaters and jerseys to help the Bruins and Celtics make a playoff run. Yet we now are looking at a Bruins team struggling to hold the 8th seed and a Celtics team surprisingly fighting for a spot in a terrible Eastern Conference. At this point, I have complete faith that the Bruins can make the Stanley Cup Finals as long as we get that playoff spot. The Celtics will have more trouble in the playoffs, but I love the way they are playing lately even if the roster is completely different than the beginning of the season.
The Bruins did not make the push I thought we should have at the trade deadline for a big name player to help us out, but if Cam Neely thinks we have the players necessary, I'm with him. The Bruins did make one trade for the young forward, Brett Connolly. But guess what? He was injured before he even suited up for a game! Well let's hope those two second round picks don't turn out to be valuable. Seriously, how can he get a season ending injury in just two days with the Bruins. I guess he couldn't handle the big bad bruin mentality. Could have used him in the playoffs but I believe we can make the push without him.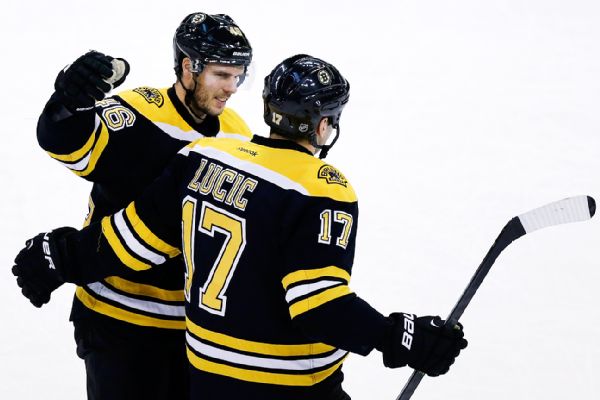 The Celtics are a much different story after trading away every name that anyone recognized anymore. Green, gone. Rondo, gone. Now we have a group of guys who have just started playing together recently and they don't look bad. Danny Ainge has made a league leading 11 trades this year and shaved any contracts he can to stockpile young talent and draft picks. But acquiring Isaiah Thomas was a big move in my eyes. He hasn't even been playing a lot of minutes and is producing more than any other player. If Jared Sullinger hadn't injured himself, this team would be pretty deep. If we can scrap together a few wins and earn the 8th seed, I would be content and fans would have a team to cheer for because god knows us New Englanders expect championship caliber play. 
Real question though. Should we just put Bellichick in a Bruins sweater, cut the sleeves off and have him stare at the opposing bench. That' s how you cruise through early rounds in the playoffs. Scare the teams shitless with Bill's mean mug.