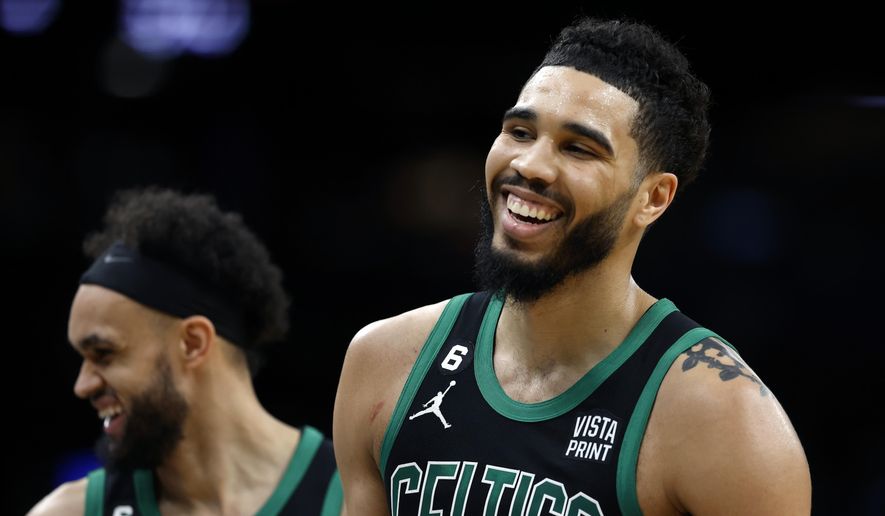 Can the Celtics get back to the Finals and win it this time?
It's been ten months since the Celtics' memorable postseason run came to a screeching halt when they met Steph Curry and the Warriors in the Finals.  As they get ready for this year's playoffs, the hope is that their experience in falling short will be a motivating factor.  But aside from the hunger to avenge the disappointment of last June, the Celtics are in better position to succeed this time around due to the product on the floor.  
Bench scoring was a major issue in last year's finals.  All Brad Stevens did to fix that was grab the potential Sixth Man of the Year in Malcolm Brogdon, who quickly established himself as the team's third best scoring option.
Derrick White has taken a giant leap forward this season, becoming one of the best guard defenders in the league and making a solid case for First Team All-Defense.  He's also shown significant improvements with his shotmaking.  
Speaking of improved shooting, Al Horford's release is evidently quicker this year as he continues to prolong his career by evolving his game to fit the modern NBA.  At age 36, he's proven to have much more left in the tank than we all presumed after his stints in Philadelphia and Oklahoma City.  Expect another strong postseason effort this year.
As far as coaching, a coach is only as good as his players and Joe Mazzulla has great players.  For all of the criticism he took this year after bad losses to lesser opponents, the Celtics always seemed to be ready to go when facing elite competition.  The one-seeded Milwaukee Bucks were only able to beat the two-seeded C's once in three tries, and it took overtime against a lineup that was missing Jayson Tatum, Jaylen Brown, Marcus Smart, and Al Horford.  The last time the two teams met, the Celtics walked away with a 41-point victory.  It hasn't been enough to swing the title odds in their favor according to DraftKings or FanDuel, but it's enough to give the Celtics and their fans all the confidence in the world that they're the best team in the East. Boston is also 3-1 against the three-seeded Sixers, and Philly's only win came in the absence of Jaylen Brown.  Why would that interest Celtic fans?  Well, if you had not noticed, earlier this year Massachusetts joined the long list of states to legalize sports betting and unlike in past years, now wagering on the Celtics can de done within state limits.
And then there's the improvement of the Big Two.  Up until the halfway point of last season, there were questions as to whether or not Tatum and Brown could coexist in a winning environment.  In their first five and a half years together (from October of 2017 to January of 2022), the duo had only scored 30+ points each on the same night a total of six times.  This season alone they've accomplished that feat 12 times, tying an NBA record set by Kobe Bryant and Shaquille O'Neal in 2002-03.  What was once a giant question mark is now a two-headed monster unlike any the league has seen in a long time.
The pieces are in place for the Celtics to get the job done this spring.  When they play to their full potential, there isn't a team in the East or West who can beat them in a best-of-seven series.  The only conceivable roadblocks would be injuries or plain old underachievement.  Barring those two scenarios, there's no reason this team shouldn't be hoisting the Larry O'Brien trophy in a couple months.
About Author