Isaiah Thomas Is Going All In For Kevin Durant This Summer
Since coming to Boston after the 2015 All-Star break, Isaiah Thomas has become an elite NBA scorer and an emotional leader for the Celtics.
One of his less discussed but equally important qualities is his persistence in trying to recruit free agents to join the C's and help them take another step towards being a championship contender.
First there was All-Star weekend of this year, when he was doing his best to reel in Al Horford among others.
Then there was this photo of him chatting up Jimmy Butler at the NBA Draft Lottery: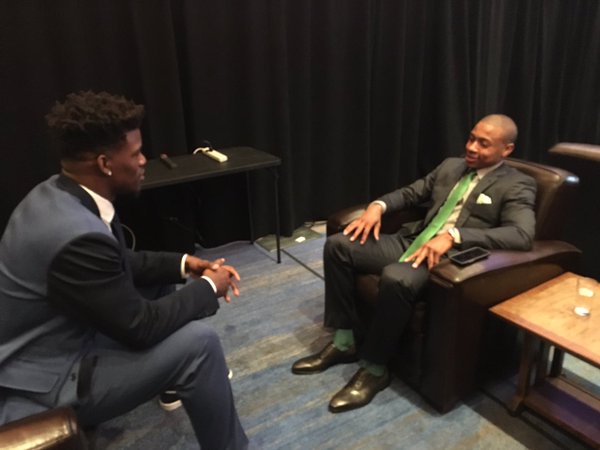 On May 31st, he tweeted "35" (Kevin Durant's number) with a clover next to it, then promptly deleted the tweet a few minutes later:
Isaiah Thomas, #Celtics All-Star recruiter, tweeted (and deleted) last night… #Durant pic.twitter.com/8rPGk4qpLI

— Adam Kaufman (@AdamMKaufman) May 31, 2016
Isaiah recently spoke to the Boston Globe's Adam Himmelsbach and explained that tweet, making it clear that he's on a mission to bring KD aboard:
"I just wanted the world to know, that's who I'm trying to get," Thomas said. "I just thought it was something nice to do for the world to see.  But I didn't think it was gonna be as big as it got."
IT wants to give Durant some time to get over his heartbreaking Western Conference Finals loss, but plans to go "all-in" on the 2014 MVP once the time is right:
"I definitely want to give him some time," Thomas said. "I know that was a tough series and a long season for him. I wouldn't want anyone calling me up about the biggest decision of my life right after the season's over. So I'll probably give him some time and casually talk to him, and then go all-in."
It's hard to decipher exactly what this all means right now, but it's also hard to imagine that Durant would want to go anywhere this off-season.  The Thunder just took arguably the greatest team in NBA history to seven games, and KD will not be playing alongside anyone nearly as good as Russell Westbrook if he chooses to leave.
Follow Jack Bardsley on Twitter @BostonsBigFour
Photo via thehoopdoctors.com