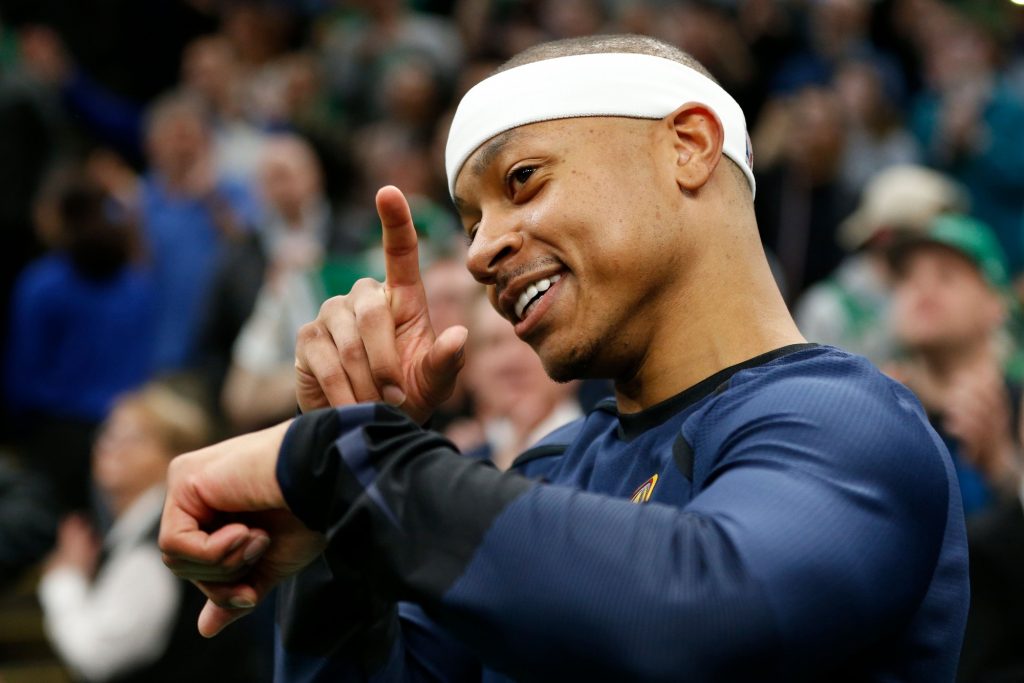 Isaiah Thomas' Return To Boston Reminded Us Just How Lovable He Is
The Celtics are the most storied franchise in NBA history with 17 championships and 22 retired numbers since their inception in 1946.  During their 73-year existence, no other player has stopped by for just two and half seasons and made a timeless impact the way Isaiah Thomas did from 2015 to 2017.
Here's a quick recap:
Unlike his height, the heart of Isaiah Thomas can't be measured.  His ability combined with his mental makeup made him everything that a Celtics fan looks for.  Despite the incredible numbers, he fully recognized that he was a part of something much bigger than himself.  He was just proud that he could contribute to a winning culture.
Now a member of the Denver Nuggets, the "King Of The Fourth" returned to TD Garden on Monday night for what felt like his first formal reunion.  No drama and nothing interfering with a well-deserved tribute video and standing ovation:
Kyrie Irving's all-around talent exceeds Isaiah's.  That's not up for debate.  When you factor IT's hip injury and the fact that Kyrie is four years younger, it's impossible to argue the trade.  Irving is currently a top 10 player in the league and Thomas isn't even seeing the floor. 
With that being said, go ahead and ask any Celtics fan which player is more likable.  Kyrie still has a golden opportunity to endear himself to Boston, but as of right now his leadership and loyalty are in question while Isaiah continues to bleed green.  IT even wore green shoes to the Garden as a member of the opposing team, later revealing that those kicks were intended to be worn in the 2017 NBA Finals if the Celtics had been able to get past the Cavs. 
Marcus Smart and Terry Rozier's reactions during the tribute are a good indication of the relationships that Isaiah was able to build during his time in Boston.  Here are a few of his interactions with some of his former teammates, as well as his personal recap of the night:
?⏪ Here's a recap of @isaiahthomas' day at the TD Garden pic.twitter.com/31kdVzRofl

— Celtics on NBC Sports Boston (@NBCSCeltics) March 19, 2019
"This is home"

Isaiah Thomas shares what it means to be back in Boston (Presented by https://t.co/Av8GdCAzPA) pic.twitter.com/9MBf1YZIL8

— Celtics on NBC Sports Boston (@NBCSCeltics) March 19, 2019
Isaiah is getting ready to hit free agency this summer and he's hinted at a return to Boston.  He's 30 years old and is apparently becoming increasingly confident in his health.  If his optimism proves to be justified then he could still be an effective scorer off the bench for a championship contender.  It might be time to come home.
Follow Jack Bardsley on Twitter @BostonsBigFour