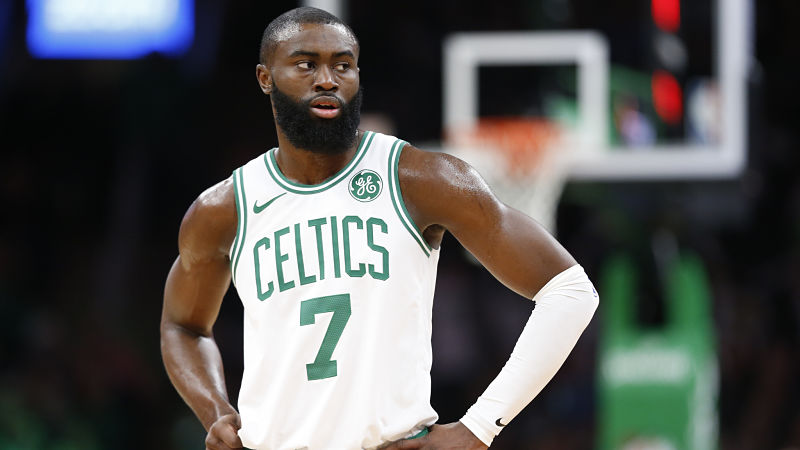 Jaylen Brown continues to show the maturity of a seasoned veteran
Jaylen Brown has made it clear that he's locked in and prepared to live a life void of any distractions when he enters the bubble in Orlando later this month.  He's vowed to deactivate all social media, allowing himself to give his undivided attention to his teammates, competing for a championship, and continuing to work together to combat social injustice.
If this tactic sounds familiar, it's because LeBron James adopted it prior to the 2012 playoffs and has used to in every postseason since.  The only difference is that LeBron was a 27 year-old who was in his ninth year in the league.  Brown is 23 and entering his fifth season, and is disconnecting for more than just basketball-related purposes:
"I feel like we're down here with a purpose," Brown said.  "I want to educate myself.  Spend time doing research, spend time talking to my teammates or other people in the NBA trying to figure out how we can all come together and use our time to divert our attention to things outside of basketball.  While we're down here, we got nothing but time.  So I'm trying to make myself available to any players that are around and might have questions or anything they want to build off of, and also my teammates as well.  So we can figure out ways to put our heads together and be a part of change."
Combine his drive, focus, and discipline with his displays of activism, his 2018 speech at Harvard about self-identity, and his continuous refusal to "shut up and dribble", and you have one of the most admirable young men in professional sports.
His talent on the floor speaks for itself, but Brown's value as a human being goes far beyond basketball.  Danny Ainge made a great decision drafting this kid back in 2016.  The production that we've seen on the stat sheet doesn't even cover half of what he brings to the organization and the city.