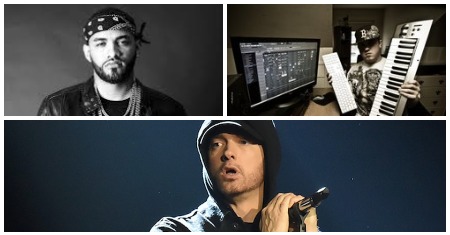 Massachusetts Is Well-Represented On Eminem's New 'Kamikaze' Album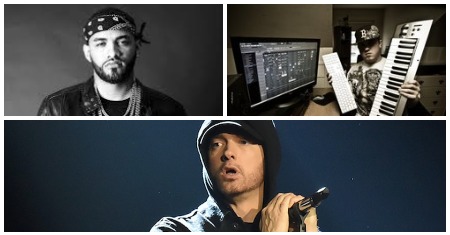 Unless you haven't been on the internet in the last few days then you know about Eminem's new 'Kamikaze' album.  The surprise project was released at midnight on Friday with no prior announcement or promotion.
There are three featured artists on the album, and only two of them are rappers.  One is long-time Eminem collaborator and fellow legendary Detroit emcee Royce Da 5'9″, who first worked with Em 19 years ago on his debut album 'The Slim Shady LP'.  The other is Massachusetts' own Joyner Lucas.
Now 30 years old, Joyner has been one of the best rappers in the world for the last few years.  I first wrote about him in 2016 when he was beginning to grab the attention of legends including Snoop Dogg and Busta Rhymes.  Six days after I published that article, another all-time great rapper (maybe the greatest) had apparently caught wind of the Worcester native:
Fast forward to last December following the release of Joyner's viral "I'm Not Racist" video.  Em continued to give his support from afar while Joyner patiently waited for the chance to communicate and possibly work with one of his biggest musical influences:
A little more than eight months later and here we are.  The most successful rapper in history has released what many are calling his best body of work since 'The Eminem Show' in 2002, and it features a one minute and 40 second verse from a man who grew up in New England.  The track is called "Lucky You", and it speaks for itself.  Two of the best fast-paced rappers in the world spitting a verse apiece and hiding plenty of meaning within their rapid delivery.  I recommend reading the lyrics while you listen.
Joyner's main producer Nox Beatz (Brian Eisner) from Weymouth had a hand in the recording and mixing.  A milestone like this has been long awaited by anyone who's a fan of the local music scene.  A couple years ago I wrote about how Massachusetts hip-hop was finally beginning to get mainstream recognition.  That growth has continued and now the whole world is seeing the results.
Follow Jack Bardsley on Twitter @BostonsBigFour
About Author