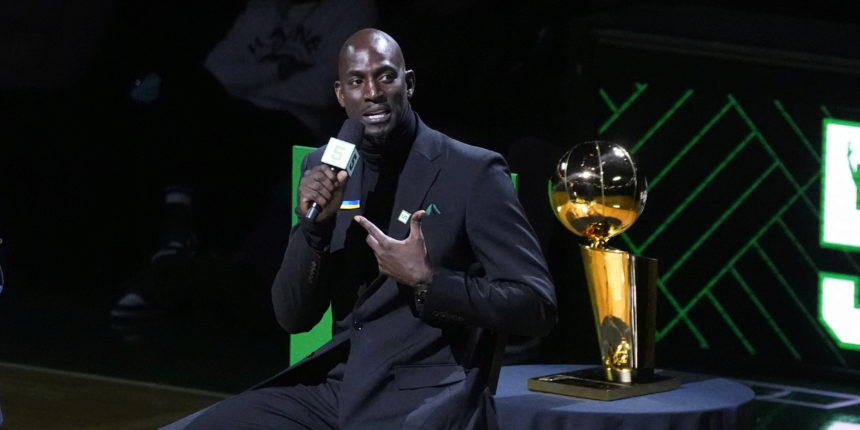 The impact of Kevin Garnett's legacy is understood by current Celtics
Last Sunday's Kevin Garnett jersey retirement ceremony came at the perfect time.  If it had happened in the first half of the season when the Celtics were consistently underachieving and struggling to build momentum, it would have been awkward.  KG would have found it hard to relate to this current team.  There was a lack of fight that he simply wouldn't stand for.
Luckily, the C's have spent the past two months being the best team in the NBA.  That's not an exaggeration, that's a fact based on their 22-4 record in their last 26 games.
Garnett made sure to acknowledge the current team in his acceptance speech, and Jayson Tatum, Jaylen Brown, and Marcus Smart nodded in approval.  They understood the message.  Even though they lost that night in a hard-fought battle with Luka Doncic and the Mavericks, they still were and still are the hottest team in basketball since the start of 2022.  They're starting to adopt that same relentless mentality that KG was so famous for, which means holding your head high after losses and not pointing fingers.  Being accountable for your mistakes and learning from them.
The 2008 NBA Champion and Defensive Player of the Year also addressed the team before the game:
https://www.youtube.com/watch?v=ZT4xFV4zXGY
The highlight of the game came when Jaylen Brown added yet another posterization to his resume, followed by KG's immediate approval:
After playing .500 basketball for the first few months of the season, the Celtics are now battling with the Sixers for possession of the three seed.  Celtic pride is alive and well.
About Author