Three Possible Reasons Why Craig Kimbrel Is Struggling
Tuesday night, up 5-2 in the 9th, John Farrell went to Craig Kimbrel after another outstanding performance by Rick Porcello.
Against a shitty New York line up, Kimbrel should have had no issues pounding 97+ with an 85 mph frisbee slider in to carve up the Yankees. Instead, Craig decided he did not want to throw strikes, throwing 37 pitches and only 16 for strikes. That is trash. He walked the ballpark and gave up a run by walking Jacoby Ellsbury on a full count with two down. Farrell actually made a good move and went to Matt Barnes to shut the door.
Consistently throwing strikes has been an issue for Kimbrel throughout his career, but ever since he came off the DL last week, he has been worse than ever before.
So with that in mind has the time come where we should be concerned about the reliability of Craig Kimbrel?
NO!
If you are concerned about Craig Kimbrel closing games you are out of your mind. He isn't some bullshit closer like Jonathan Papelbon, Craig Kimbrel has been number one since he came into the league in 2010 and won the Rookie of the Year in 2011 with Atlanta. The guy is a rock.
There are a few possible reasons why he is losing control on his fastball. One of them being the fact that Sandy Leon just has no idea how to call Craig Kimbrel. Sandy has been slider happy with him and we all know fastball is the best pitch he has.
Another possibility: Was Craig Kimbrel rushed off the DL? Did he come off too early and not at 100%. His motion is violent and he puts a lot of stress on his left knee during his delivery. WEEI interviewed Kimbrel after his horrendus outing last night and he said "it's something I'm going to battle with until it's all gone" about his knee. So he needs to cool the jets a little bit, we have reliable arms in Matt Barnes and Brad Ziegler if Craig needs another week or so to recover.
Lastly ever since Craig came off the DL he has a different motion. We all talk about consistency in the wind up and in the set, it was a big point for David Price this year twice.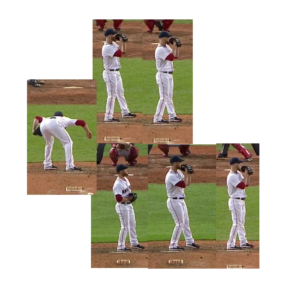 He still begins with the wing, because the wing is the GOAT, on top was Kimbrel pre-DL, just one fluid motion down to just under his chin. Now he starts from the hip and double taps his toe in a jerky motion up to his chin. Why he changed? No idea, but take a look next time Kimbrel is on the mound.
But the last thing we need to be worried about is Craig Kimbrel in a save situation.
Follow Kyle Lussier on Twitter @Kyle_Lussier31
Photo via Boston Herald
About Author