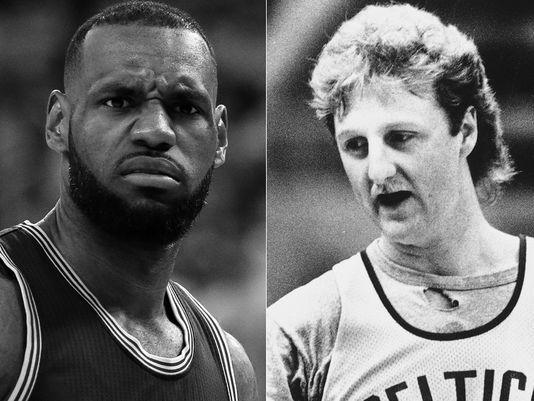 Why Larry Bird Was Better Than LeBron
By John Bardsley
Reggie Miller recently sparked debate on the Dan Patrick Show when he said that he would take a 30 year-old Larry Bird over a 30 year-old LeBron James.  Miller basically said that with today's rules that prevent you from touching superstar players without being whistled for a foul, Bird would dominate the NBA.
http://https://www.youtube.com/watch?v=pd4z6a04dBU
Miller was immediately backed by Skip Bayless, who tweeted that "Larry Bird was a more valuable all-around player/leader/clutchshooter than LeBron has ever been."
If these statements aren't enough to convince you, however, perhaps a look at these stat lines will help.
At 30 years old, Larry Bird was statistically better than LeBron James in every major category.  Bird also won the MVP Award that season.  LeBron finished third in MVP voting last year behind Steph Curry and James Harden.  Sure it's just one season, but if you break down their entire careers, Bird's career numbers show that he's equal to if not better than Bron Bron.  In fact, you won't find any player in NBA history (including Jordan) whose numbers are more identical to LeBron's than Larry Legend.  At this point in his career, LeBron's regular season field goal percentage, steals per game, and blocks per game are exactly the same as Bird's and he only averages 0.2 more assists.  Bird also averaged three more rebounds per game than LeBron currently does along with committing less turnovers.  Here's a look at their regular season stats.  The red indicates who has the better numbers.
Regular Season:

LeBron:

27.3 PPG
49.6 FG%
6.9 AST
7.1 REB
1.7 STL
0.8 BLK
3.4 Turnovers

Bird:

24.3 PPG

49.6 FG%

6.7 AST

10 REB

1.7 STL

0.8 BLK

3.1 Turnovers
Their postseason stats show similar results, with LeBron edging out Bird in field goal percentage by a mere 0.1% and Bird averaging 0.1 more steals than LeBron.  Again there's only a 0.2 assist differential and again their block numbers are exactly the same.  Bird's rebound and turnover numbers also remain superior to LeBron's in the playoffs.
Postseason:

LeBron:

28.2 PPG
47.3 FG%
6.7 AST

8.8 REB

1.7 STL

0.9 BLK

3.5 Turnovers

Bird:

23.8 PPG

47.2 FG%

6.5 AST

10.3 REB
1.8 STL

0.9 BLK

3.1 Turnovers
(Statistics provided by basketball-reference.com)
When you add all of these similarities to the fact that they both play the same position (SF), it's hard to comprehend why LeBron draws so much comparison to Michael Jordan.  Sure, LeBron is the best all-around player in the game today, but why he gets the honor of being talked about next to the greatest of all-time is beyond me.  Jordan was a shooting guard so his style of play was a little different.  He was definitely more of an aggressive scorer.  His points per game average and field goal percentage were higher than LeBron's, especially in the playoffs.  Michael Jordan won 10 scoring titles in his 15 years in the NBA, LeBron has one in his 12 years.
Jordan was also better than LeBron defensively, being named to the NBA All-Defensive First Team nine times, leading the league in steals three times, and winning the Defensive Player of the Year Award in 1988.  LeBron has been named to the NBA All-Defensive First Team five times and has never won Defensive Player of the Year and has never led the league in any defensive category (neither did Larry Bird).  Bird, Jordan, and James all have the exact same blocks per game average in the both the regular season and the playoffs.
LeBron, however, has the clear advantage over Jordan in rebounds and assists, which isn't the case when he's matched up with Bird.  That's because LeBron and Bird are forwards and are 6'8″ and 6'9″, respectively.  Michael Jordan was a 6'6″ shooting guard, much like Kobe Bryant, the player who should be drawing the most comparisons to MJ.  Jordan may edge out Kobe in just about every statistic, but their rebound (MJ 6.2, Kobe 5.3) and assist numbers (MJ 5.3, Kobe 4.8) are closer than when compared to LeBron (7.1 Reb, 6.9 Ast).  That's because their size and style of play are eerily similar.  Jordan basically invented Kobe.  He set the standard for how to be a dominant shooting guard in the NBA and Kobe admittedly modeled his game after him and did his best to fill his shoes.  After coming within one championship ring of Jordan's total, being named to the same amount All-Defensive First Teams (9), and actually being named to more All-Star teams (17), I'd say he's done a pretty good job.
All statistics aside, what Skip Bayless said couldn't be any more true.  Larry Bird was a more valuable overall player, leader, and clutch shooter than LeBron James has ever been.  And in my opinion, the same can be said about MJ and Kobe.  I'm not saying that LeBron isn't clutch because he's managed to disprove that theory over the last few years, but he's also folded in big moments more than these other three legends have.  Players like Bird, MJ, and Kobe had a certain type of fearlessness for the big moment and it was evident as soon as they entered the league.  That was definitely not the case for LeBron at the beginning of his career and although he's managed to grow some balls and make some big shots in recent years, he just doesn't have that killer instinct that appears to be embedded in some players' DNA.  I can't say that his leadership skills are exceptional either because of the amount of times he has managed to bring his loyalty into question.  It's hard to look at someone as your leader when you're not sure that they'll stick around if the team falls short of their goals.  Bird, Jordan, Kobe, and many other NBA legends did all of their damage with one team (with the exception of MJ's post-retirement stint with the Wizards).  Many great players even endured numerous disappointing seasons but stuck with their team as they rebuilt.
All of this statistical evidence and questions of character and mental fortitude is topped off by the fact that, at 30 years old, LeBron James is 2-4 in the NBA Finals.  At that same age, Larry Bird was 3-2 (during the Lakers' Magic/Kareem/Worthy Era nonetheless), Kobe Bryant was 4-1, and Michael Jordan was 3-0.
The bottom line is that LeBron has been referred to as "the next Michael Jordan" ever since he was in high school.  But if you ignore the media hype and look at the facts, you'll see that twelve years into his NBA career, he still has some other players to catch up to before he deserves to be compared to the greatest.
About Author