Why The Red Sox Will Make The World Series This Year
Yeah, it might be May 10th, but the Red Sox are going to the World Series this year. You could say it might be a bit early, but seriously this looks wicked promising. The Red Sox currently sit on top of the AL East, which is panning out to be a mediocre division. The Yankees look awful, the Rays are the Rays, Toronto strikes out too much, and the Orioles have no pitching. This is the Red Sox division for the taking. I have also seen so many analysts on TV saying the AL goes through the White Sox. Boston is the only team to win a series against Chicago this year and comparing the two teams, I would give the Red Sox an advantage solely based on the offense. I know the pitching rotation behind Steven Wright and Rick Porcello does not offer much right now, but you know it will improve with Eduardo Rodriguez set to return. I still see people sleeping on this team, and I am going to throw some things out there that may want you to reconsider.
The Lineup – The Red Sox currently lead the league in runs per game with 5.2, batting average at .284, and hits at 320. You could say this lineup is pretty scary. David Ortiz is absolutely destroying opposing pitchers, hitting .321 with 9 Hrs and 29 RBI's in his age 40 season. The only guy who is "struggling" right now is Mookie Betts, who is batting below .250 but has 18 RBI's from the leadoff spot. If Mookie starts swinging a hot bat like we saw him do last season, I am not sure how the Red Sox will ever score any less than 5 runs a game, unless Jake Arrieta pitches. With the huge emergence of Jackie Bradley Jr. this year(.303 Avg. 4Hrs, 21 RBI's), he adds some length to this lineup batting in the 8th spot. 1-8 for the Red Sox is the most dangerous in baseball.
The Bullpen – Say hello to our newest acquisition in Carson Smith.  I do not think some fans realize how big having this guy back from the DL really is. Smith last year was closing for the Mariners and put up a 2.4 WAR, which is pretty good being a closer on a team that was below .500. While Smith was on the DL, the 7-8-9 guys were Tazawa-Koji-Kimbrel which is pretty impressive already. Adding Carson Smith to the mix will help take some innings off the arms of Taz and Koji, who already have been used a ton since the 2013 season. Along with the fact that Koji is 41 years old, it is important to keep him fresh for the postseason run. Robbie Ross, Matt Barnes, and Heath Hembree have also looked very impressive this year and that has me feeling like we have the most sound bullpen in the game.
The Starting Rotation – Hey Red Sox fans, do you miss this guy like a lot? Eduardo Rodriguez as a rookie last year looked a lot like how a future ace would look in his rookie season. A knee injury sidelined him during spring training and it is rumored that ERod will make his first start of the season in the upcoming week. Everybody only talks about how David Price has had an awful start to the season so far, and guys like Steven Wright and Rick Porcello are pitching like Cy Young candidates.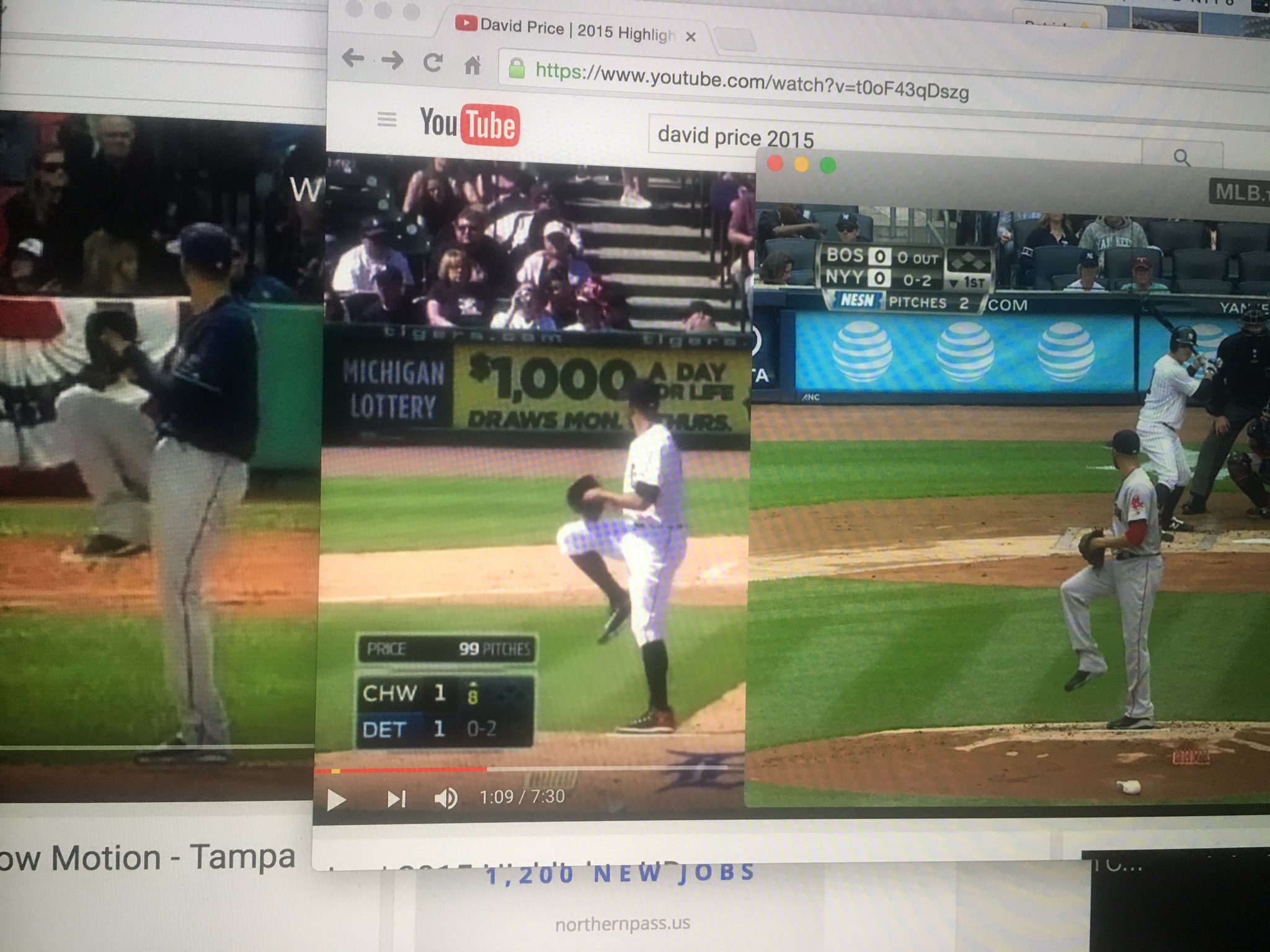 Price will turn it around guys, there was a story that Dustin Pedroia was watching film on his mechanics and spotted something that seemed a bit off. Price said it was an easy fix and was mad that it was going on for this long and he did not even notice. As you can see in the picture above, we are comparing Price's delivery from his days in Tampa (left), his days in Detroit (middle), and just last weekend against the Yankees (right). Lets hope this is the reason why Price leads the league in earned runs and turns it completely around. World Series back on. Slotting in ERod behind Wright and Porcello would look wicked good, and with Clay Buchholz winning his last two starts lets hope he starts to build on something.
I understand we are only 32 games into the season but there is just this weird feeling with this Sox team. Not the type of feeling I got in 2004 or 2013, but similar to the one I got in 2007. This team can just straight out hit anyone. Once the pitching rotation even gets slightly better we are in excellent shape. You heard it first here guys.
Follow Andrew Parker on Twitter @AndrewwParkerr
Photos via the Boston Herald
(Price Delivery Picture from @Patwatson32)