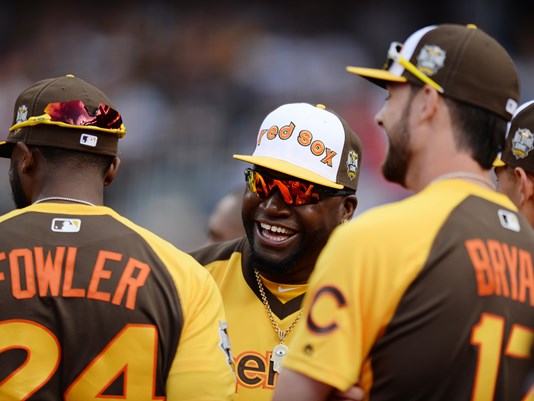 David Ortiz Receives A Standing Ovation After Exiting His Final All-Star Game (VIDEO)
David Ortiz has been the star of the show at the 2016 All-Star festivities in San Diego.  The 40 year-old is enjoying the final All-Star game of his historic career, and players and fans alike are reveling in the historic moment.
At the Home Run Derby on Monday night, every single player (and their children) wanted a picture with Papi, and I don't think he said no to anyone.  Even with guys coming and going year after year, it seems like this Ortiz has somehow managed to be friends with almost every player in baseball throughout his career.
It's no wonder fans everywhere love him, and that was never more evident than when he departed from the All-Star game for the last time:
La ovación en Petco Park para @davidortiz @AllStarGame @listindiario pic.twitter.com/7f2yHWoLVZ

— Levi Luna (@leviluna21) July 13, 2016
Despite what our buddy David Price said a couple years ago, David Ortiz is absolutely bigger than the game.
Follow Jack Bardsley on Twitter @BostonsBigFour
About Author