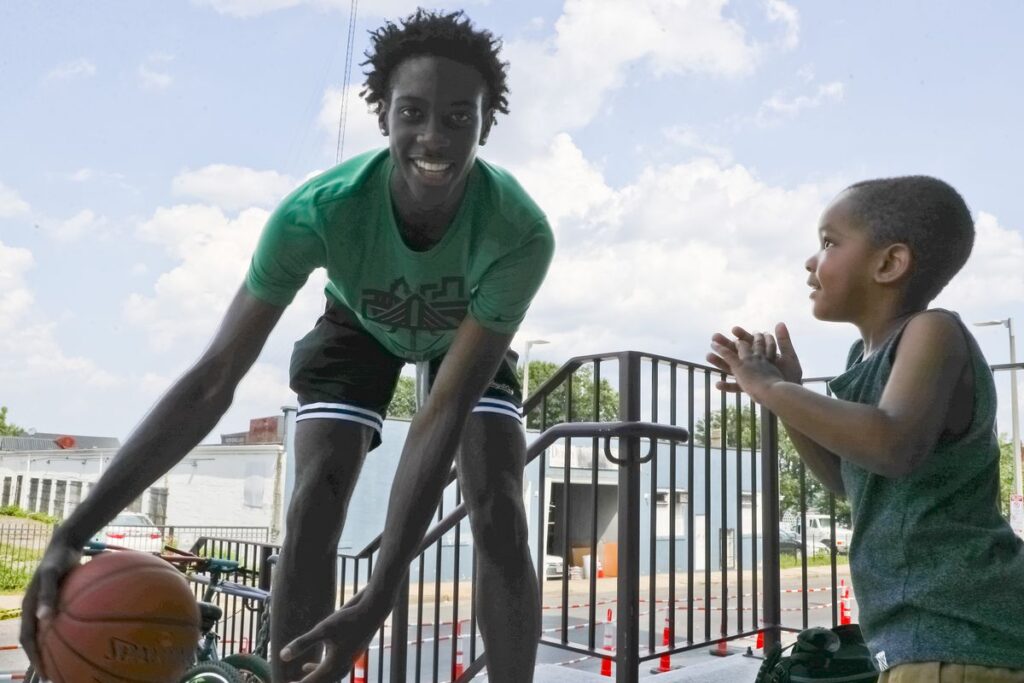 New England mourns the loss of Terrence Clarke
The loss of basketball phenom and Boston product Terrence Clarke has been felt throughout the New England community.  Clarke, who was preparing for the NBA draft after a phenomenal freshman season at the University of Kentucky, was born and raised in Dorchester and played his high school ball at New Hampshire's Brewster Academy where he led his team to the 2019 National Prep Championships.
The death of the 19-year-old came as a shock to anyone who had the pleasure of meeting him over the years.
"Our community is devastated by the news," Head of School Craig Gemmell said in a statement posted on the Brewster Academy website. "To the world, Terrence was a star on the basketball court, an icon in the communities he was involved with, on a path to college and NBA stardom. To us here at Brewster Academy, he was a friend, a student, and, yes, also a valued member of the prep basketball team."
Clarke arrived at Brewster as a sophomore and quickly became "a light to all who knew him," according to Gemmell, who described Clarke as an open, positive person with a "truly infectious smile."
Clarke's teachers also looked back on their time with him in school.
"He was an enormous presence in the classroom," history teacher T.J. Palmer said. "His enthusiasm and energy really did match his stature. He loved a good debate in history and made each class richer just being in it."
Being around Boston, Clarke had the chance to work out with Jaylen Brown and Jayson Tatum.  They were both heartbroken by the news:
Brad Stevens and Kemba Walker also chimed in:
Clarke was proud to be from Boston, and spoke a lot about the culture and his upbringing:
Well-known Boston journalist/historian put his thoughts together in a detailed Instagram post that encapsulates what Terrence Clarke meant to our region:
"We've suffered so many tragedies in the Boston basketball community. I could list name after name dating back to the late '70s and early '80s but as of late this city and state were on a roll seeing our best and brightest break the cycle and reverse old curses. Now I can watch NBA TV, ESPN, TNT & ABC and catch a former Massachusetts or Boston product putting up numbers. Terrence Clarke was going to be our next superstar. He was proud to be from Boston and looked forward to having the opportunity to put the entire city on his back and rep the hometown in the NBA. I'd see him on every site like Slam, Ballislife, Overtime, etc. playing with Brewster Academy, Expressions & Team USA dazzling people with his prodigious talents on the court. When he reclassified and early committed to Kentucky, following in the footsteps of Wayne Turner, I knew he was going to be a one and done then head to the league and make his lifelong dream come true. This past college season at Kentucky was a chaotic and an injury filled disappointment but T Clarke was committed to improving and developing his full game at the next level when he applied for early entry in the 2021 NBA Draft. I was in shock when I heard the news coming behind hearing about the passing of Shock G but this one hurts, can't lie. The entire city was proud of this young man and it pains me that we never got to see him shine and continue to be an inspiration to all the young people pursuing their dreams in Boston & Massachusetts. Rest in eternal peace, young king. You will never be forgotten."
A tragic loss for New England and the basketball world in general.  Our thoughts are with Clarke's family and loved ones during this difficult time.
About Author