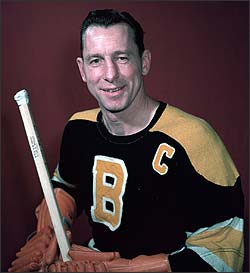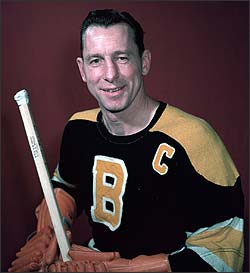 Legendary former Bruins center, coach, and general manager Milt Schmidt died on Wednesday afternoon at the age of 98. Schmidt was a legend across the NHL for his contributions to the Bruins organization.
No one in Bruins history had as unique of a career as Schmidt. He played for the Bruins from the 1936-1937 season through 1954-1955 and amassed 575 points in 776 NHL games. Schmidt won two Stanley Cups with the Bruins in 1939 and 1941 before enlisting in the Royal Canadian Air Force to serve in World War II, missing three NHL seasons during the prime of his career. Schmidt was named an All-Star four times, was the league's scoring champion in 1940, and won the Hart Trophy as the league's MVP in 1951.
Schmidt immediately assumed head coaching duties for the Bruins upon his retirement in the 1954-1955 season and coached the Bruins for 11 seasons, until he was promoted to general manager in 1967. Schmidt is credited for leading the Bruins to two more Stanley Cup appearances in both 1956-1957 and 1957-1958, and was a key part in bringing Bobby Orr and Phil Esposito, amongst others, to Boston. He was inducted to the Hockey Hall of Fame in 1961. As general manager, Schmidt won the Stanley Cup with the Bruins two more times in 1970 and 1972. Though he left the Bruins organization in 1974, Schmidt's has remained an inspiration to Bruins players from Ray Bourque's era to Patrice Bergeron and today's Bruins teams. His number, 15, hangs at the TD Garden, one of ten retired numbers by the Boston Bruins.
It's hard to emphasize Milt Schmidt's impact on the Bruins and on the NHL as someone who was not alive to see him play, coach, or manage a team. It's near impossible to write this without feeling inadequate; others will write about his life more eloquently and with more insight. However, few people alive today can say they saw Schmidt play. The man was 98. It's a testament to Schmidt's legacy that he is remembered so fondly even today as one of the earliest superstars of the National Hockey League and an important ambassador for the game.
Throughout the history of the Boston Bruins, players have come along that have earned the compliment of the ideal Bruins player. Eddie Shore, Phil Esposito, Terry O'Rielly, Bobby Orr, Ray Bourque, Cam Neely, Zdeno Chara, and Patrice Bergeron are just a few of those impressive names. Milt Schmidt originated that ideal. He was not the most skilled player in Bruins history. That title belongs to Bobby Orr. But if Orr is to the Bruins what Ted Williams is to the Red Sox, Schmidt is Johnny Pesky. Their playing careers were not necessarily similar- Pesky was never able to help the Red Sox to a World Series championship, while Schmidt won two as a player and two more as a general manager- but both are celebrated for the time they put into their respective organizations as players, coaches, mentors, and icons.
Milt Schmidt was part of the early generations of the NHL. Legends from any sport can be lost in the accomplishment of more recent stars, players whose entire careers were captured on video and whose glory days are remembered because fans who saw them play are still alive today. Though Schmidt's playing days were decades ago, his legacy has stood the test of time. Milt Schmidt should be remembered in death as fondly as he was in life, because his life is worth remembering.
Follow Tommy McArdle on Twitter @tmcardle27
About Author