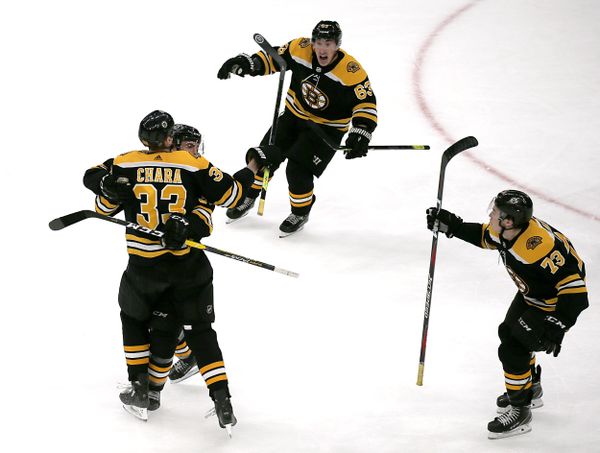 The Bruins' Current Streak Has Turned Them Into Legitimate Stanley Cup Contenders
The Bruins went into the All-Star break sitting at 27-17-5.  They had just fallen to the Rangers in Boston and found themselves looking up at both the Lightning and the Maple Leafs in the Atlantic Division standings.  
That game happened on January 19th, and it's the last time the B's lost in regulation.  In the 48 days since, they've gone from the 12th best team in the NHL to the second best.  Their 18-game point streak is the franchise's longest since 1969, and it's catapulted them from a from a borderline playoff team to a legitimate Stanley Cup contender.  
David Pastrnak was Boston's lone All-Star, but after winning the Accuracy Shooting Competition in San Jose and helping the Bruins to a 4-0-3 record out of the break by notching 10 points over that span, Pasta slipped and fell while heading to his Uber after a sponsorship dinner.  
Up to that point (Feb. 12th), the 22 year-old's 66 points were good for nearly 40% of the Bruins' scoring all season.  Fortunately, losing their best player wasn't enough to derail a squad that had clearly come into the second half with something to prove.  Since losing Pastrnak, the Bruins have added 11 more games to what was a seven-game point streak by going a remarkable 10-0-1.  Jake DeBrusk has taken over the bulk of the scoring load with eight goals in his last 10 games.
All-in-all, the B's are 14-0-4 during this historic run, the likes of which hadn't been seen in 50 years.  The best part is that the majority of these games haven't been easy and this team is showing the type of grit that could carry them into June for the first time since 2013, which is the last time we saw them grind out a win as exciting as this one on Thursday night against the Panthers:
Two goals in 30 seconds to steal a win with just six seconds to spare.  Jack Edwards still hasn't stopped screaming.  When I mention 2013, you know exactly which game I'm talking about.  This one wasn't in the playoffs, but it was another one that you'll remember for the rest of your life.
Speaking of 2013, arguably the most consistent Bruin in their red hot second half has been Tuukka Rask.  Tuukka is currently on his own 18-game point streak, going 15-0-3 in his last 18 starts.  He joins Pete Peeters as the only two goaltenders in NHL history with two career point streaks of 17-or-more games.
Perhaps a decrease in playing time has helped the 31 year-old revive his prime, but one thing is for sure.  His impact on and off the ice has been an embodiment of the championship mentality that has apparently spread throughout the entire dressing room.  Here's what Tuukka had to say after Thursday's thriller:
"We're pretty relentless and have never given up on anything. Sometimes it pays off and sometimes it doesn't, but I think the biggest thing is that you never give up, it paid off [against the Panthers] in a big way.  It's in our DNA now that we just don't give up."
The Bruins will look to extend their streak to 19 on Saturday night when they take on the Senators at the Garden.  Puck drops at 7 pm.
Follow Jack Bardsley on Twitter @BostonsBigFour