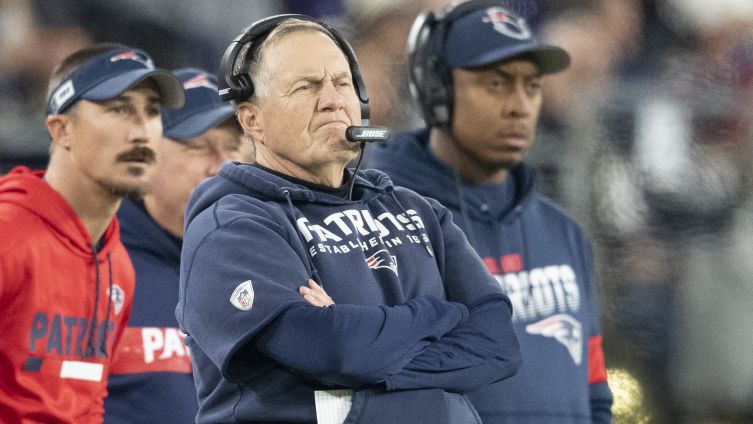 The Patriots Got Exposed On Sunday Night And They'll Be Better Because Of It
As most of us had assumed, the talk of the Patriots' weak schedule was legitimate.  We were all correct in predicting that the 11/3 match-up in Baltimore would be their first real test.  It was a joy to watch their defense stifle opponents for two straight months, but at a certain point it became too good to be true.  They were in desperate need of a wake-up call and that's what they got in Sunday night's 37-20 loss to the Ravens.
Their defense still deserves to be in the "greatest of all-time" discussion.  The 2000 Ravens gave up 36 points and 421 yards to Mark Brunell and the Jaguars as well as 524 yards to Vinny Testaverde and the Jets.  The '85 Bears allowed 38 points to Dan Marino and the Dolphins.  Great teams are allowed a dud or two.  One loss doesn't alter their chance of being historically dominant when all is said and done.  It's how they respond to the loss that will tell the real story.
Yes, they were getting too much respect for beating some of the worst teams in football, and the boogeymen nickname/talks of 19-0 were extremely premature.  I'm glad that's all out of the way.  Now if we've learned anything from watching the Brady and Belichick Patriots over the past two decades, it's that they hardly ever get rattled by one terrible game.  In fact, ugly losses typically lead to crucial adjustments that make the team stronger in the long run.  It's the reason they've maintained their spot among the NFL's elite longer than any franchise ever has.  While other teams would spiral out of control after being dismantled on prime time television, the Patriots view it as a learning experience and an opportunity to get better.  
The fate of Baltimore is still much harder to predict.  Whether or not they can maintain that level of play for a full season remains to be seen.  Give them credit, they used their strengths to their advantage on Sunday.  Defensively they did what they could to make Brady uncomfortable, and Lamar Jackson is the most explosive running quarterback since early 2000's Michael Vick.  But the thing about Vick and every other run-first QB that we've seen since he took the league by storm is that they don't win Super Bowls.  They're able to lead their teams on impressive regular season winning streaks but typically aren't as effective in the postseason.  I'd be willing to bet that a playoff rematch would go New England's way.
What I'm saying is there's no need to panic.  The Patriots usually fail a test or two in September so they're able to work out the kinks in a more timely manner.  This year, it took nine games for an opponent to come up with an effective game plan to neutralize their defense.  You don't know what your weaknesses are until they get exposed.  Now that someone finally gave them a reality check, they can start working towards being the team they need to be come January.