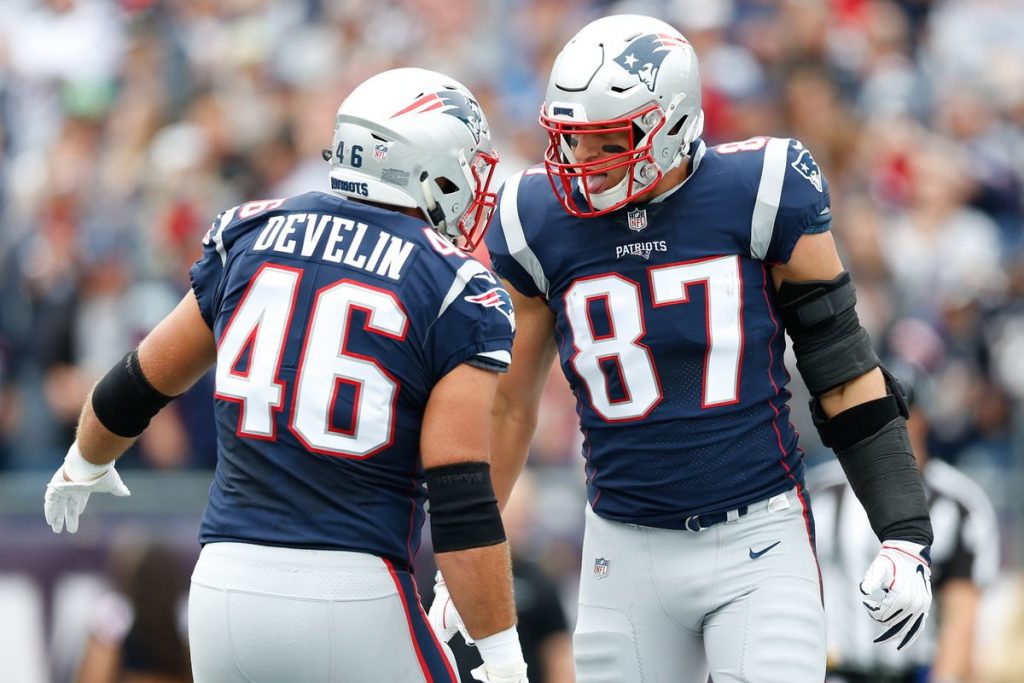 Patriots Notes: Gronk In Tampa, Draft Results, Develin Retiring
Despite the absence of any form of athletic competition for the past month and a half, there's been plenty to talk about in regards to the Patriots.  Brady's a Buc, Gronk is joining him, Belichick still doesn't give a shit about who you think he should draft, the new kicker removed his controversial tattoo, and James Develin retired.
I gave my thoughts on Brady a couple weeks ago, so I'll address what's happened since my last Pats article:
Gronk to the Bucs
After taking a year off from football for health reasons, soon-to-be 31 year-old Rob Gronkowski is making an emphatic return to the NFL by joining Brady down in Tampa.  I'm sure he wouldn't trade the Super Bowl rings for anything, but Gronk didn't particularly enjoy playing for Bill Belichick.  Neither did Brady, in case you haven't been paying attention for the last few years.
The Patriots will be worse next season, the question is how much worse?  To be honest, I'm excited to find out.  The run had to end at some point, so here we are.  For the first time since 2001, it's time for the Pats and for us as fans to enter the season with an underdog mentality.  It's not ideal, but it's life.  What we experienced over the last two decades is what most people would consider a fantasy.  Reality doesn't allow you 20 straight years of not sucking.  So welcome back to Earth.
Regardless of how the Patriots fair, the idea of the greatest quarterback and tight end in NFL history teaming up against the greatest coach to try to prove who was more essential to the other's success will make for a wildly entertaining football season.  I don't care which team you're rooting for.
Belichick's Draft Picks
In typical Bill Belichick fashion, he traded away the Patriots first-round pick and then drafted a Division II safety in the second round.  Only this time he did it from the comfort of his Nantucket home with help from his dog Nike.  In Bill's defense, Lenoir-Rhyne's Kyle Dugger was projected to go in the second-round and was looked at by many as a sleeper pick, so I guess there's a chance he's athletic enough to make the leap from DII to the NFL.
The next two picks were less controversial, as he addressed the glaring weakness at linebacker by taking Josh Uche from Michigan and Anfernee Jennings from Alabama. 
He also grabbed a kicker with a certain tattoo, which is now being removed.
James Develin
James Develin decided to hang it up after a decade in the NFL and eight seasons with the Patriots.  Say what you want about the importance of fullbacks in today's game because Develin was as important as they come. 
He was instrumental in Sony Michel's success during the 2018 Super Bowl run.  LeGarrette Blount called him the best fullback he's ever played with.  But Bill Belichick's open letter to the undrafted workhorse out of Brown University said it all.  The guy was the ultimate Patriot.  Grinded his way to a starting job after hardly receiving any looks out of college.  Even played some arena football before finally getting a chance with the Bengals practice squad from 2010-2012.  When they gave up on him, the Patriots came knocking.  It was then that he became a Pro Bowl-level talent who was deemed worthy of being a key piece to three championships.  The way the run game struggled in Develin's absence last season is an indication of how significant this loss could be.