Why the Red Sox should draft Buford OF Brandon Marsh
Okay Red Sox fans bare with me for a second while I sort out the Red Sox future. The Red Sox have a very young outfield so why would you need to draft another outfielder with a high pick? Here is exactly why you take Brandon Marsh with that pick number 51.
Your outfield currently has Mookie Betts(23 years old), Jackie Bradley Jr.(26 years old), and a revolving door in left field. JBJ and Mookie will be in those spots for years to come and in a perfect world, that left field spot gets taken by Andrew Benintendi, who the Sox took in the first round out of Arkansas last year. Where is the room for Marsh? Right Field.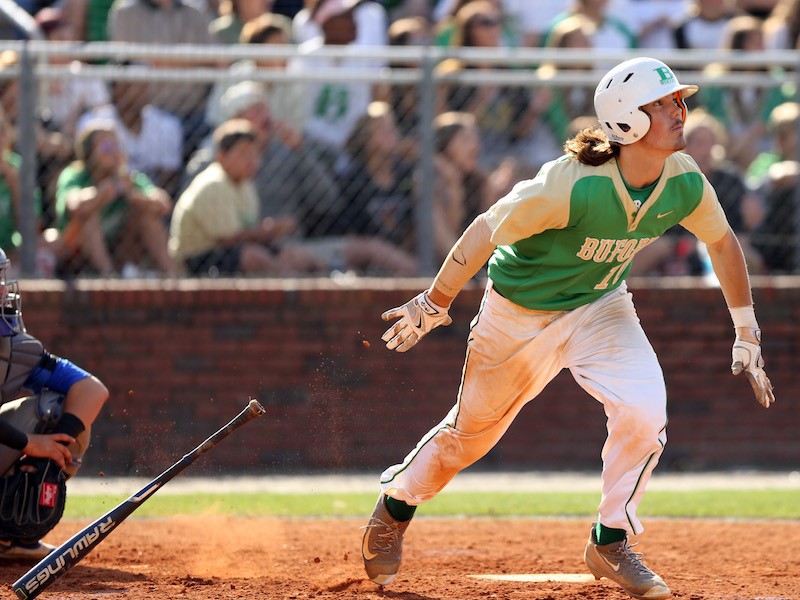 Before you panic about possibly getting rid of Mookie Betts, take a seat real quick. Dustin Pedroia is 32 years old. Betts is a natural second baseman, who had to switch to the outfield after being blocked by Pedroia. Being straight out of high school, you would not expect Marsh to see Fenway for at least three to five years depending on how pro ball treats him. Pedroia would be over 35 years old and with all of the DL time he has seen over the past few years, you could expect him to be declining a bit by then. Insert Mookie to his natural position at second and Marsh to right field. Make me GM now.
Now here is a big reason why he sticks out to me for the Red Sox to take. Marsh is not just a baseball player, he is a freak athlete.
He played Wide Reciever for Buford's football team, which went to the state championship this year and is one of the best in the state of Georgia every single year. Marsh was recently named the Player of the Year for the 4A All Region Baseball Team. He is 6 foot 4, 210 pounds. He has the speed to play center field as well, which makes him even more valuable. He is a 5 tool player, with great power and can hit for average. I have seen some rankings of Marsh having the best arm for any outfielder in the draft, and after watching JBJ throw some lightning throws in center this year, I am sure all of Boston would welcome another arm like that.
The Red Sox are in really good shape with all of the youth they have on the roster currently. Vasquez, Swihart, Shaw, Bogaerts, Betts, and JBJ are all under 26 years of age. Replenishing the youth is key with the draft, as every single one of those guys mentioned were drafted and homegrown by the Red Sox. Adding Brandon Marsh to that list would be more than alright with me.
Follow Andrew Parker on Twitter @AndrewwParkerr
About Author